You probably already know that your wedding colors are important, but before you can start the bulk of your wedding planning journey, you actually have to go through the process of choosing them. Knowing exactly how to pick wedding colors might seem like a no-brainer at first—you choose a handful of colors you like and leave it at that, right? While that's partially true, there are a few other things you'll want to consider before deciding on a final wedding color combination, such as your wedding season, the formality of your event and your overall aesthetic. To help you narrow down the best color choices for your big day, we're explaining all of this and more, including a list of the most popular wedding colors you can use for inspiration when it's time to bring your own celebration to life.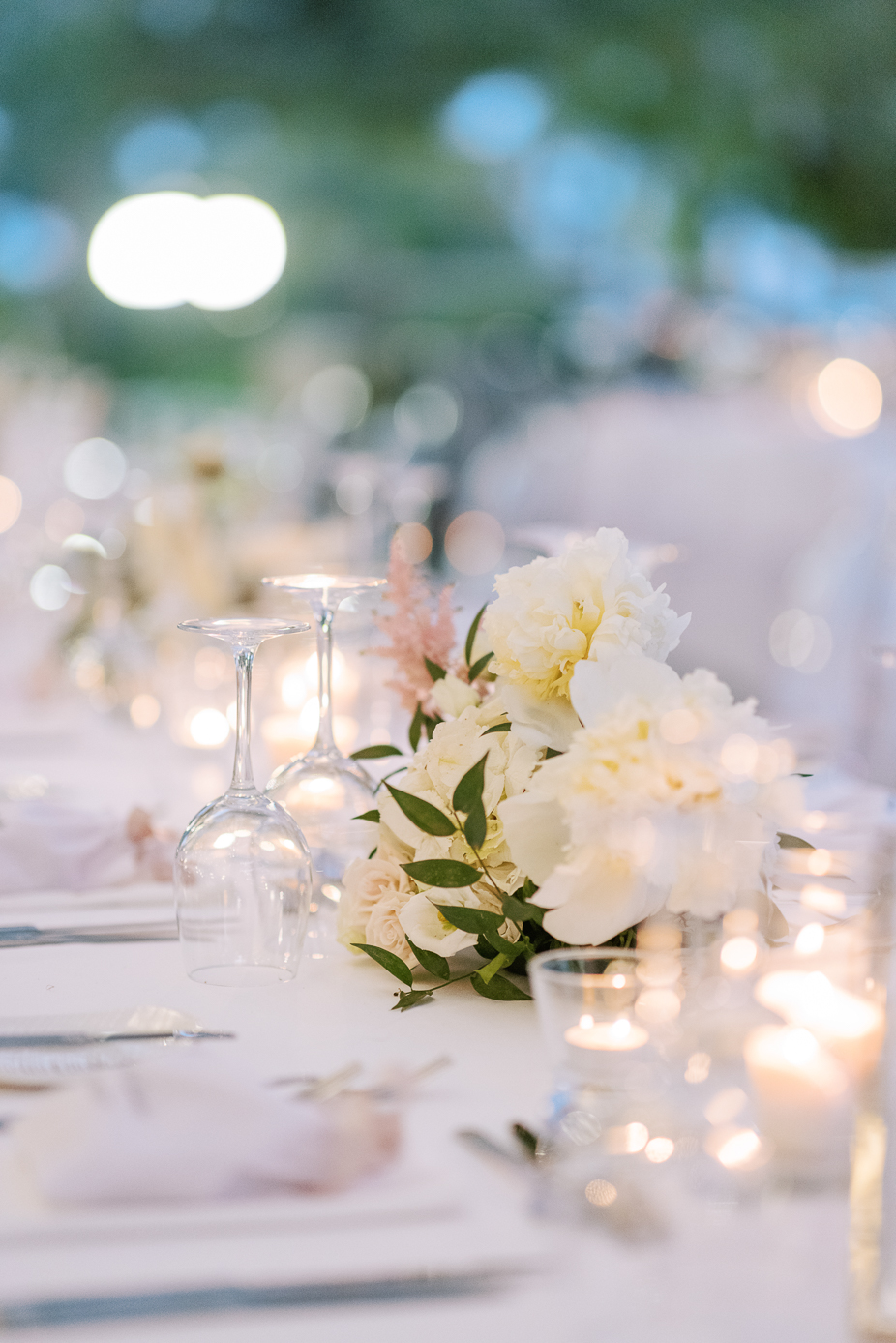 What Is a Wedding Color Scheme?
A wedding color scheme is a collection of colors that are used in various ways throughout your wedding day. Your wedding colors tie into almost every facet of your wedding, from the wedding stationery to the floral arrangements, table linens, attire, cake design and sometimes even unexpected details, like your signature cocktails or wedding favors.
A carefully chosen color palette is essential when it comes to creating a cohesive wedding theme, but if you're worried that working with specific colors will feel too limiting, we've got good news. Contrary to almost every wedding rom-com in existence, gone are the days of matching paint chips and fabric swatches to dinner plates, centerpieces and dresses. Instead, your wedding color scheme should serve as a general guide for the feel of your wedding day. For example, do you want to use pastels to create an airy, romantic setting, or layer dark jewel tones for a dramatic, regal effect? Rather than focusing on two or three of your favorite colors, opt for a color family instead, such as light shades of blue or classic neutrals. This will help you achieve a wedding color scheme that feels layered and dimensional without worrying about everything matching perfectly.
You should start thinking about your wedding colors, or at the very least, your ideal wedding style, shortly after you get engaged. Even though you might not pinpoint your exact wedding colors right away, having a ballpark idea of your general theme will help steer you when it comes to choosing the wedding venue and setting a date. For example, if you love bohemian earth tones, you might want to consider an outdoor venue instead of a formal banquet room. If you gravitate toward bright citrus-y colors, that could hint at a summer wedding instead of a winter event.
How to Pick Your Wedding Colors
Once you've finalized your wedding color scheme, all of your other details will begin falling into place. Here's how to get started.
1. Get inspired by your setting.
First things first: location. As we mentioned, it's a good idea to have a wedding color palette in mind as you start your venue search. Think about what colors you'd like to use, and decide whether you'd want to prioritize finding your perfect venue or having your dream color palette. The good news? You can often have both, especially when you consider certain types of settings. Venues like converted warehouses, refurbished lofts and outdoor locations are often 'blank slate' venues, which means you can add as much or as little as you'd like to carry out your wedding vision and really personalize the space.
If your prospective wedding venue has a lot of decorative elements already in place, use those details to influence your color scheme. Whether it's the colors of the carpet, the paint on the walls, the modern lighting fixtures or the stunning view, even the smallest things can spark an idea. Choosing colors that complement your venue will enhance what you love most about the space (without clashing visually).
2. Keep your wedding must-haves in mind.
While your wedding venue is a major influence when you're figuring out how to pick wedding colors, you'll also want to consider other non-negotiables that are already on the table. For example, if you've always dreamed of having wedding flower arrangements overflowing with sunflowers, you'll need to include yellow somewhere in your palette. Use your must-haves as a starting point, rather than trying to figure out how to incorporate them into your wedding later on. You don't want to finalize a color scheme only to find that a must-have looks out of place or gets lost in the rest of the decor.
3. Think seasonally.
Just like your everyday wardrobe, your wedding colors can (and should) reflect the time of year that you're saying "I do." That's not to say that you can only use certain colors during certain seasons, but the trick is how you style them. If pink is your ideal wedding color, a soft rosy version is perfect for spring, while bright coral is a summer wedding staple. For fall, a purple-pink fuchsia pairs well with other jewel tones, while muted mauve and silver are a pretty wintry combo. Adding accent colors can also help lighten or darken your color palette for different seasons.
4. Set the mood.
Your wedding colors have a huge impact on the vibe for your special day. If you're going for a fun, lively atmosphere, you'll naturally want to include eye-catching colors, like bright pink, turquoise, red, or yellow. Leaning toward something timeless and understated? Basic tones like navy blue, black, ivory and metallic silver or gold will look lovely. Think about the style and atmosphere you want your wedding reception to have, whether it's relaxed, glamorous or something in between, and choose colors that put you in that mindset.
5. Look to what you love.
Still feeling a little bit unsure about where to begin when picking wedding colors? Look at the colors that you already surround yourself with. From your closet to your home decor, the colors that show up most often in your life are likely the colors you'll be happy with for a long time, so they're a great place to start. Plus, it's an extra perk to repurpose leftover wedding items, like vases and linens, if they already match your decorating style. Another tip: Save your favorite real weddings using The Knot app, or start creating a mood board or Pinterest board filled with images that inspire you (this is just for fun—they don't need to be wedding related!). After you've bookmarked a few dozen ideas, look for patterns in terms of color or style. This will give you a glimpse into the aesthetic that you're subconsciously drawn to, which is a good starting point for choosing your wedding color palette.
6. Do some extra research.
Home decorating magazines, fashion blogs, art galleries and friends' weddings are all great sources for inspiration. While you wouldn't want to choose a trendy wedding color combo that doesn't also speak to your personal style, thinking outside the box and using fashion or interior design to inspire you may help you see colors you already love in a new way.
7. Consult the color wheel.
You don't need a degree from art school to pick your wedding colors, but there are some basic principles to follow. Typically, colors that go well together are opposites across from each other on the color wheel, because they pair cool and warm tones together (for example, terracotta orange and sky blue). Other color pairings that work are "neighbors"—they're similar to each other and share a primary color (think: peacock blue and sage green, or lilac and blush). A classic way to build your color palette is by pairing a heavily saturated color with a neutral, like taupe or ivory, and then adding softer complementary colors.
8. Don't overthink it.
It's easy to get caught up in the idea that you have to have a strict color scheme, but if you're feeling the pressure to pick the right hues, remember that your wedding palette isn't the be-all and end-all. While your wedding colors will inform a lot of your other decisions, like your flowers and your decor, you should use them as a guideline instead of a rule. Not every part of your wedding has to match perfectly—and in fact, a tonal color palette often looks more sophisticated than a matchy-matchy one, so don't stress about getting every detail color-coded just right.
Popular Wedding Color Ideas
You've learned the basics about how to pick wedding colors—now it's time to think about choosing your own palette with the help of real-life wedding color inspiration. Start with these tips.
Trending Wedding Colors
Just like flowers, fashion and other wedding trends, the top wedding colors have changed many times over the years, even during the pandemic. In 2021, metallic gold was the the most popular wedding color according to our company data, with 36% of couples incorporating it into their color palette. Navy blue, which is historically one of the most popular wedding colors, was a close second. For 2022, wedding planners predict that uplifting, bright colors will be everywhere, with green, peachy pink and Very Peri, the Pantone Color of the Year, being named as the biggest wedding color trends.
Wedding Colors for Any Season
While it's true that some colors are closely associated with specific seasons—like pastels and spring weddings—you don't always have to follow that rule. There are plenty of versatile wedding colors that work year-round, especially when you pair them with certain accent colors or metallic tones. For example, styling navy blue with pale yellow says 'beachy summer wedding,' but if you swap out the yellow hue for silver, you instantly have a formal winter wedding color palette. Lilac purple might seem like one of the best wedding colors for spring, but when paired with deep burgundy, it's appropriate for a fall wedding color scheme. Earthy neutrals, black, blush, sage green, gold and gray are just a few other options that you can easily transition from season to season.
Wedding Colors by Theme
Remember: Your wedding colors are closely tied to your wedding theme, so it's best to start thinking about both of them at the same time. Certain colors will instantly elicit a specific vibe, like a duo of marigold yellow and burnt orange for an eclectic boho wedding theme, or a black-and-white wedding color palette if your style is more classic and luxe. Vibrant, neon hues are popular for beach weddings, light green and blush are a favorite combo for garden weddings, and a palette of pale blues will give your wedding an ethereal, celestial look.
From: theknot.com
---

Meet me
My name is Panayiotis Hadjiapostolou, photographer and creative artist. As a patient gatherer of moments, I perfectly understand how special but fleeting they can be, and how precious your time is to you.
Your Big Day will go by in a flash.. and I will be there, in the background. Capturing all the delicious little things of movement and life; your perfect memories … all bottled up to inspire a harder laugh, a louder dream and a better life.
Feel free to contact me directly for a consultation on personalized services, tailored to your needs.
Congratulations on your wedding and remember. Nothing is a stretch too far when it comes to making you happy.
Address: Archiepiskopou Kyprianou 15B, Strovolos, Nicosia, Cyprus
Tel: +357 96 670 130
Email: info@hadjiapostolouphotography.com