I have a confession to make us a Cyprus Wedding Photographer: I've got a bit of a shoe fetish. From the beginning of my wedding photography career, I've been fascinated with wedding shoes. I've learned many sartorial lessons over the years. When it comes to wedding shoes, there are several pro tips I'd like to share.
It's true that the wedding dress tends to take all the attention, but your wedding shoes should also be special. You should love them, they should go perfectly with the dress, and who knows—they may even steal the show if they're cute enough, right?
Wedding shoes will pull your entire bridal look together, and they can compliment your dress in a sensational way. But it's not enough to just buy a pair of shoes you love. There are quite a few things to keep in mind before purchasing a pair you love. Wedding shoes are an important part of every bride's overall look. They not only complete her outfit but add a personal touch to her bridal look. Although every bride has her own idea of dream shoes, there a few guidelines to remember when choosing your shoes. To help you get started, we've put together 10 tips on how to choose your bridal shoes and featured some of our favorites.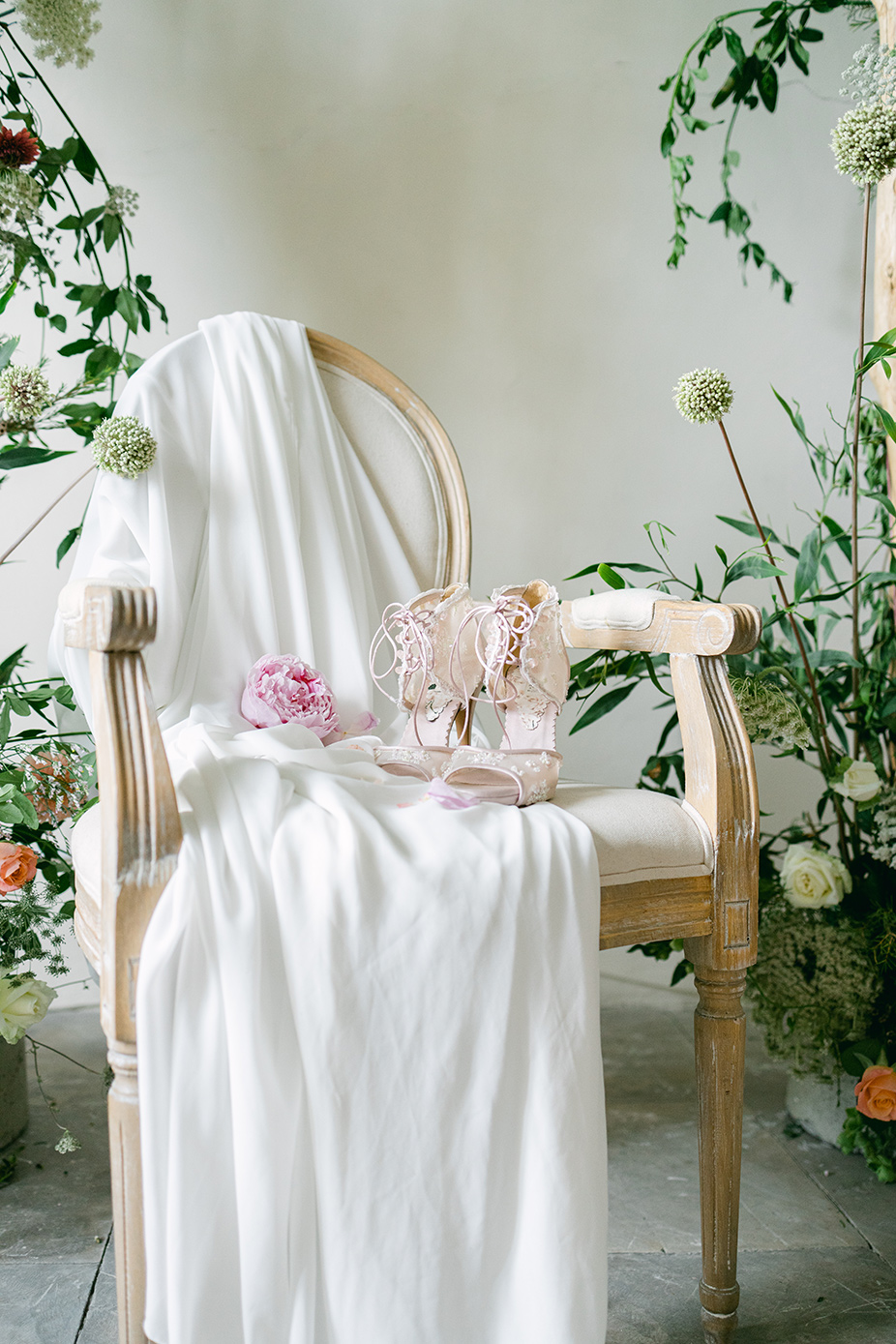 What shoes do you LOVE?
Firstly, let's take a moment to think. Think about the shoes which make your heart flip. Forget practical, forget budget, forget what you usually wear and just daydream. Is it those incredible, over the top Swarovski and feather Jimmy Choos? It is sky high, barely there sandals which make you swoon? Are you more of a sentimental shoe girl and fell in love with a pair your grandma wore to marry your grandad? Did you see a pair on Pinterest which nearly made you drop your phone? You know that feeling? That one right there? THAT is what you should feel when you find your wedding shoes. That tummy flip, that 'OHMYGODILOVETHEM', that, well *sigh* when you realise you've found them.
Once you've identified the kind of shoes which make you feel like that, write 2-3 things down which they all have in common. Are they sparkly and embellished? Elegant and vintage? Are they classic ivory, metallic gold or is it colourful shoes which get you going? By identifying the common factors you can create a shopping list of must haves for your wedding shoes, and this can be invaluable to stop you getting overwhelmed as you start to look around.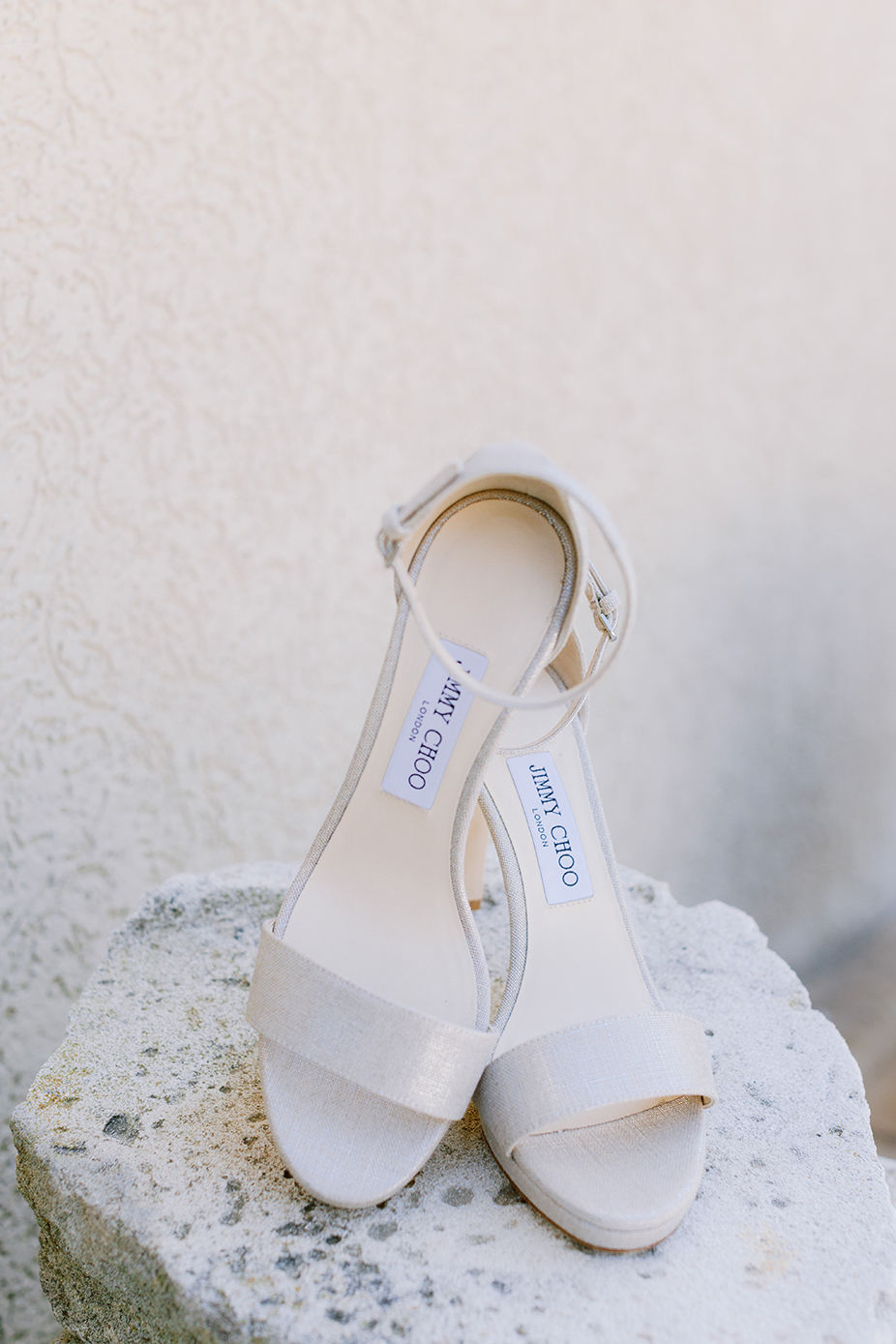 What shoes will you feel the most YOU in?
Are you a classic bride and want your shoes to tie in with the overall look of the day? Or do you want to make more of a statement and like the idea of your shoes being a little bit 'out there'? I ask Bella Belle Shoes if your wedding theme its so important to your decision. According to Bella Belle Wedding themes have become more and more popular in recent years. Themes can be quite understated and subtle or can go off with a bang. This theme can carry over into various elements of the wedding, including the menu, decorations, and even your shoes.
Choosing wedding shoes that coincide with your theme is a great way to carry a cohesive motif throughout the entire day. Vintage wedding themes, for instance, are quite popular currently and can very easily be carried into your shoe choice. Selecting wedding shoes that replicate popular styles from the 1920s, 1940s, or any other era is a stunning yet subtle way to incorporate your theme. Other themes can be carried into your shoe choice as well through the style, color, and detailing of the shoe.

Don't Forget To Bring A Dress Swatch
When shopping for your wedding shoes, don't forget to bring a long a swatch of your dress fabric so that you can see how they look together. There are many, many different shades of white, and you don't want the dress and shoes to clash.
Make Sure The Shoes Go With Your Dress
Another important reason to wait to get wedding shoes until after you find your perfect dress is to ensure that the styles go together.
For example, a vintage wedding dress will most likely not look good with white gladiator sandals. Bright blue stilettos might be an odd fit for a bohemian style dress. Be sure your wedding shoes and dress go hand-in-hand.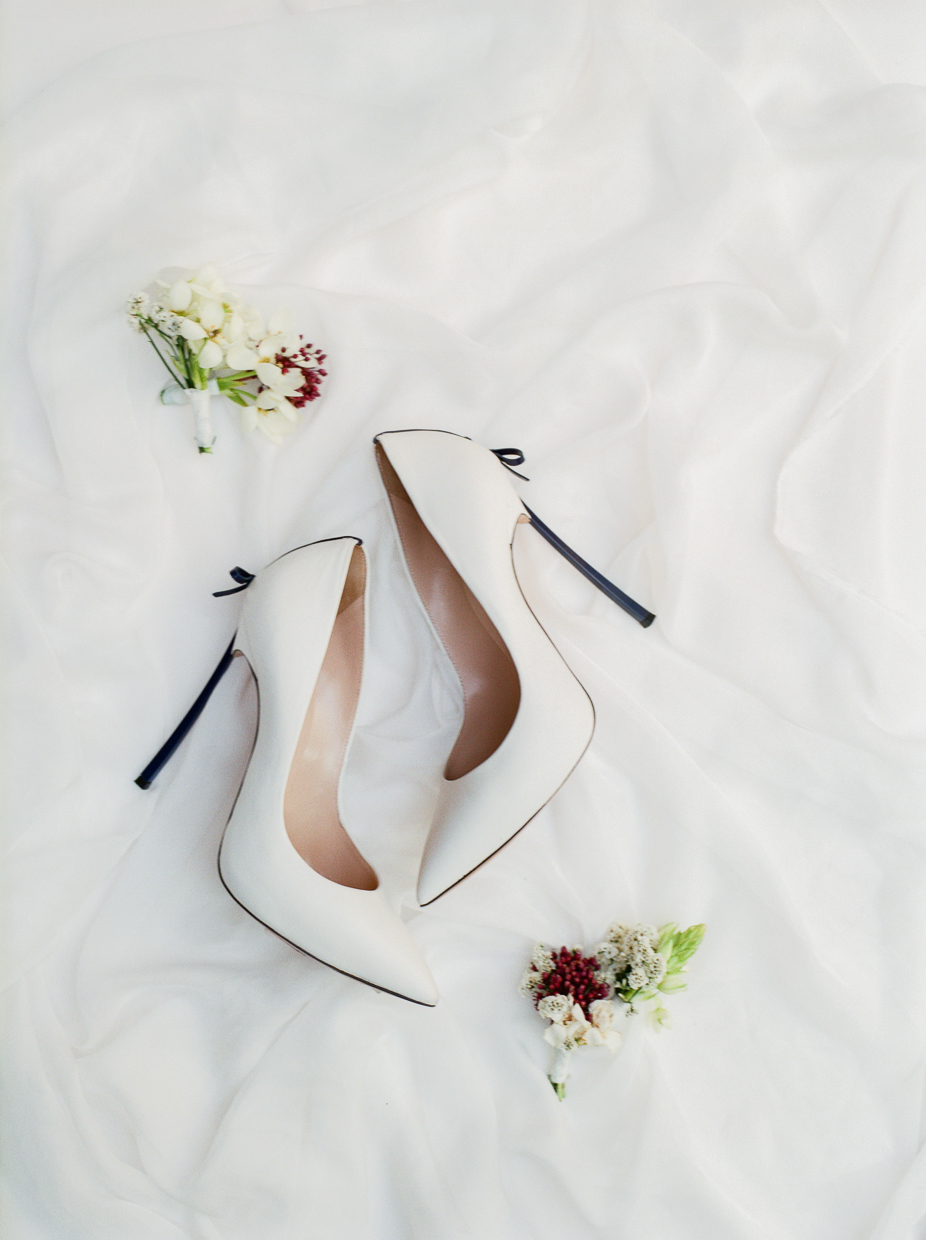 Consider the Heel
When shopping for the perfect wedding shoes, one of the most important things to keep in mind is the heel height. Consider the hemline of your dress, the height of the person you're marrying, and your own personal comfort.
You probably don't want to be taller over your partner, and you'll also want your shoes to match the dress length. They should also be very comfortable, as you'll most likely be wearing them for hours. Just because it's your wedding day doesn't mean you have to wear high heels, especially if you're not used to them. There are plenty of stunning options available for wedding flats or wedding sandals, which can be truly helpful if you're not a "high heel person".
If you're uncomfortable in unfamiliar heels, it's probably going to be noticeable during the wedding day. You'll either walk awkwardly or perhaps even fall. Or, at the very least, your feet are going to hurt. You don't need any of that on your wedding day! Go with comfort. Hopefully this wedding shoe guide will help you during your hunt for the perfect bridal look. And if you're looking for a beautiful Los Angeles wedding venue, check out our gallery at Vatican, or contact us for an in-person tour!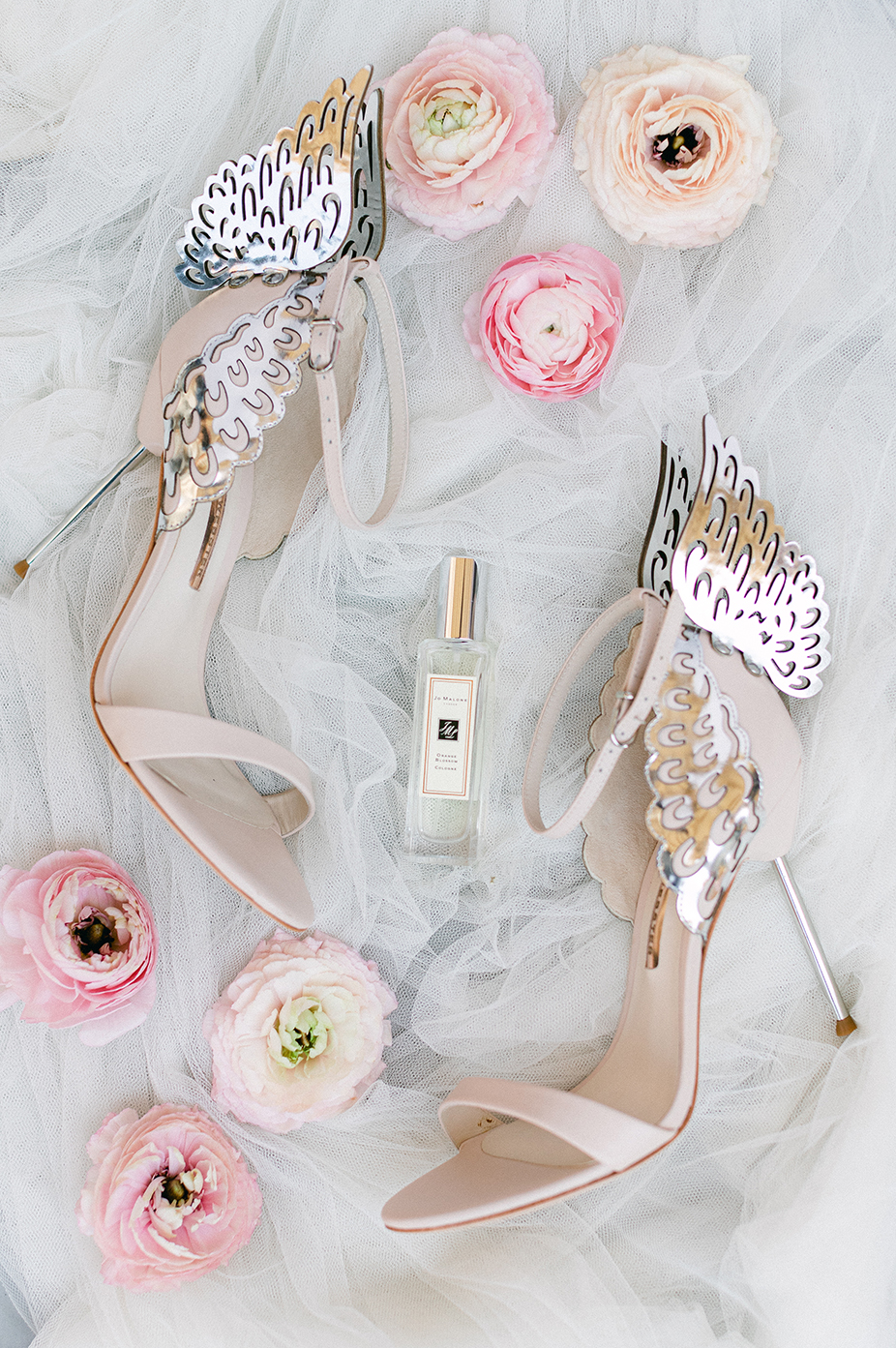 If you want to elongate your legs
Brides with shorter legs should try to avoid shoes which have an ankle strap feature, particularly if the strap is quite chunky. This style of shoe can make your legs look much shorter. A high heel of 2 – 3 inches will always provide a little extra height.
Just remember; although it may be tempting to opt for towering heels to give you the extra height you desire, if you aren't used to very high heels your special day may just be spoiled by sore feet.
If you're tall and you aren't interested in increasing your height, beautifully embellished flats are a great option. However, if you don't want to wear flats a small heel such as a kitten heel will give you the look of a heel without giving you too much extra height
Check the weather
Is it going to rain or snow? If so, you'll want to avoid suede wedding shoes—they will likely be stained before you reach the venue. Similarly, if the forecast calls for sunny skies, country boots might be too warm to wear. If you have your heart set on a specific style that isn't weather-permitting, task a bridesmaid to bring them in a waterproof box. That way, you can wear durable shoes to the venue, and change once you get there.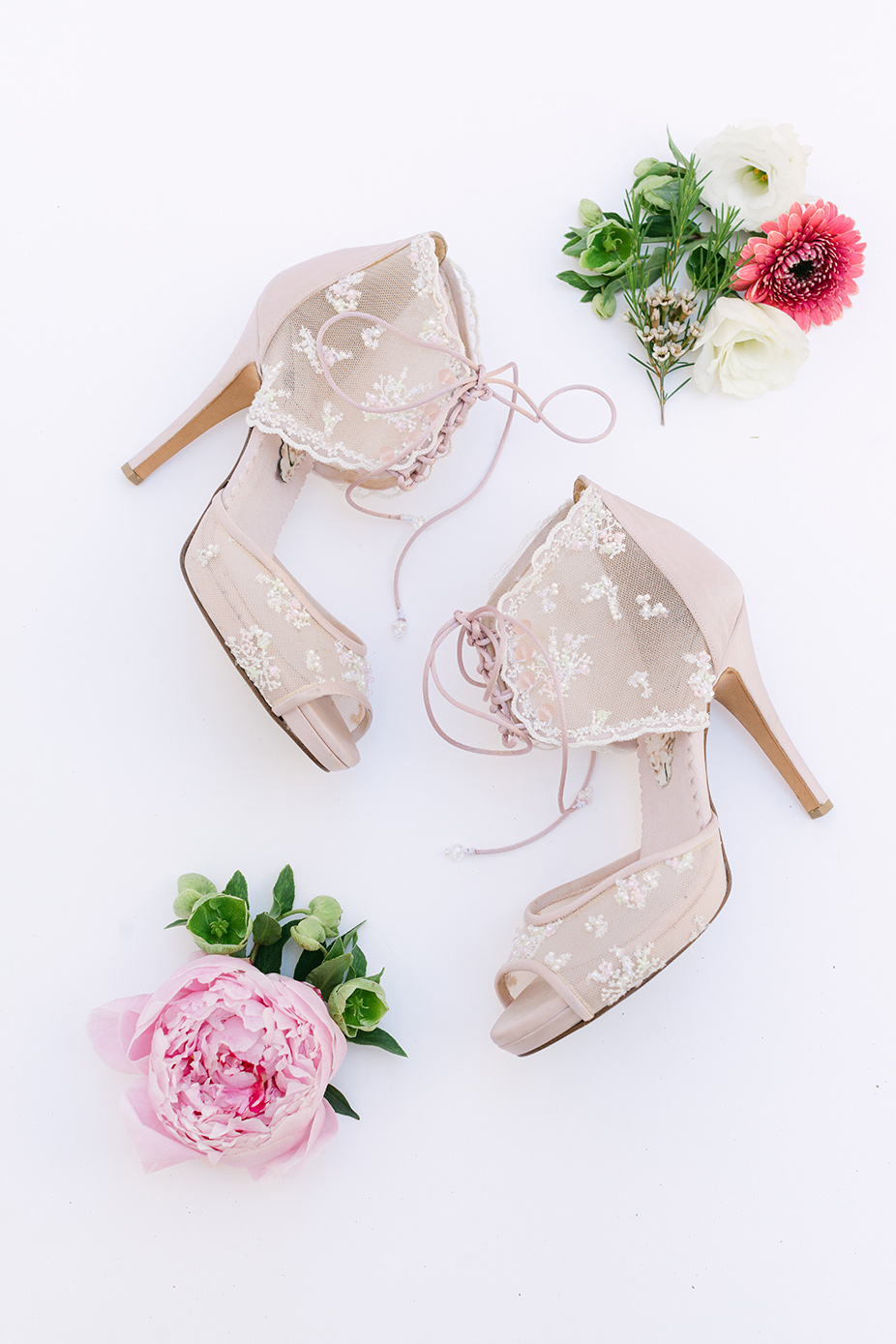 Color Can Be Perfect
While many brides opt to go with a white or neutral-colored wedding shoe, you can most certainly choose a colorful shoe instead. In fact, a bright wedding shoe can often add a lot of "pop" to your bridal look. If color isn't necessarily your thing but neither are neutral tones, consider a shoe with metallics such as silver, gold, or rose gold, which can beautifully enhance jewelry or wedding gown embellishments and help tie your look together.
"Wedding shoes are available in various colors, each lovely in their own way. Of course, the most common color choice for wedding shoes is white, as it is the easiest to coordinate with most wedding dresses. Off-white and ivory shoes are also popular choices and are perfect for a bride looking to stray a bit off the beaten path. Choosing shoes in a color that matches your dress helps create a clean and cohesive look throughout the entire ensemble. Colored wedding shoes can also have a lovely effect on the overall look of your bridal outfit. Choosing shoes in a contrasting color to your gown is a great option for brides looking to make a statement and add a pop of color to their ensemble. Many brides use their wedding shoes as their "something blue," whether through a soft sky-blue or a stunning sapphire hue" Bella Belle Shoes says.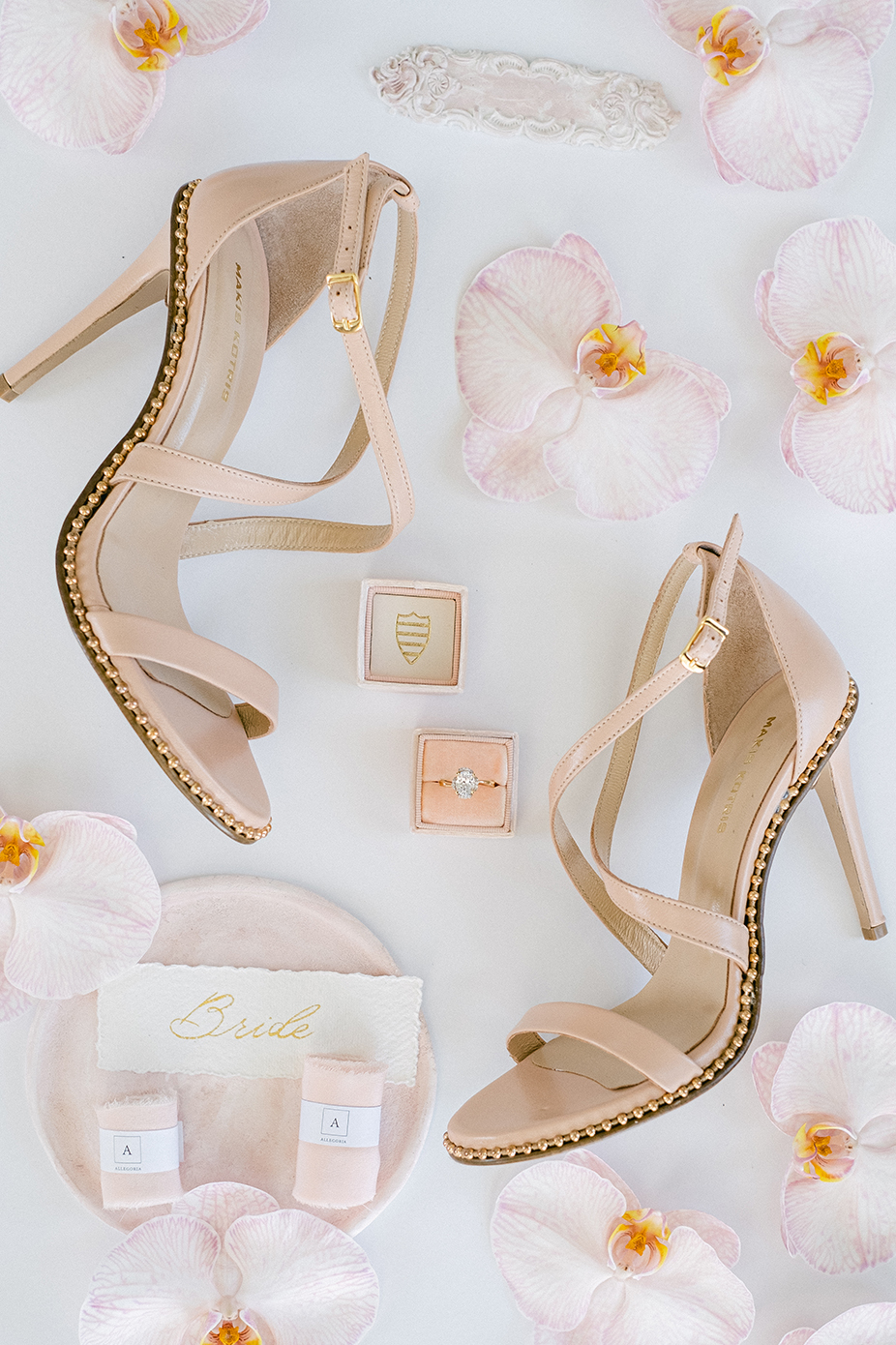 What Kind Of Aisle Are You Walking?
According to Bella Belle Shoes the location for your wedding and reception will also play a large part in the decision-making process for your wedding shoes. Outdoor weddings that are held on the beach or in a garden and will require you to walk across grass or sand. For instance, are not the most conducive to high-heeled shoes. You may be concerned that stiletto heels may sink into soft ground at your wedding ceremony or reception site. Wedding shoes with block heels are more practical for most outdoor weddings. Flats or sandals are also popular and allow for easier mobility around an outdoor venue.
Have your heart set on high-heels? You can turn any heels outdoor friendly by using heel protectors. You should also consider how the weather and temperature of your wedding venue may impact your shoe choice. Winter weddings may be better suited to a heeled bootie, while a summer bride may be more comfortable in a sandal or strappy heel. Bella Belle offers many shoe choices with breathable mesh, which will keep your feet fresh and comfortable. Here are a few options.   

Wear them before the big day
The last thing you want on your wedding day is blisters and painful feet because you didn't wear in your shoes before the big day.  Wear them around the house a few times – even in your pjs.  A TIP that my mom gave me many years ago – if your shoes feel a bit snug, wear them in with thick socks a few times.  They will stretch and have a better fit.
---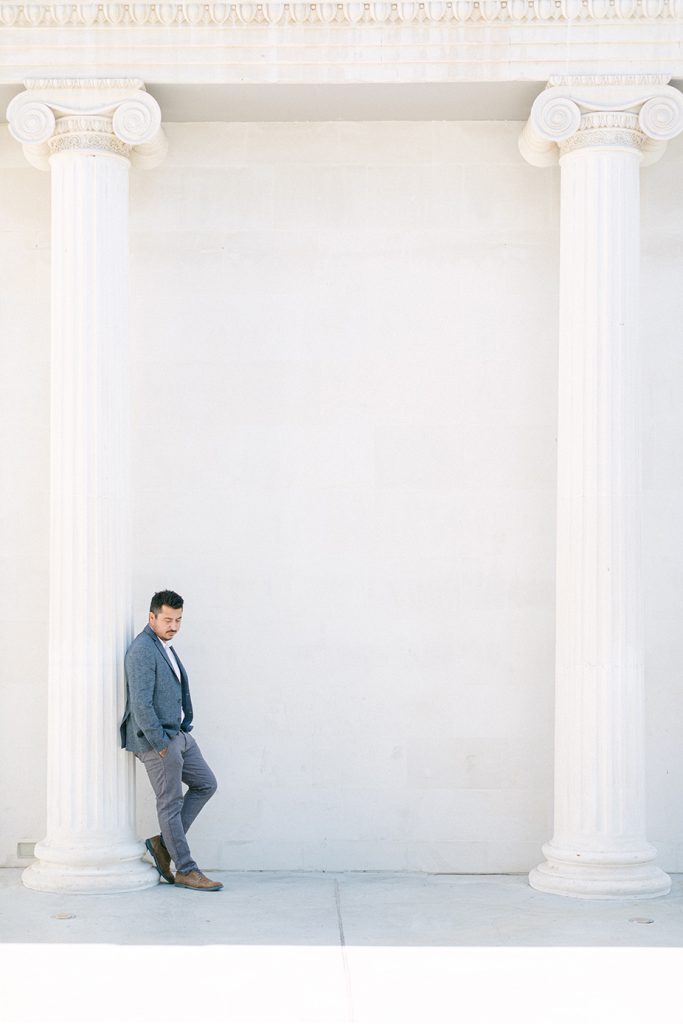 Meet me
My name is Panayiotis Hadjiapostolou, photographer and creative artist. As a patient gatherer of moments, I perfectly understand how special but fleeting they can be, and how precious your time is to you.

Your Big Day will go by in a flash.. and I will be there, in the background. Capturing all the delicious little things of movement and life; your perfect memories … all bottled up to inspire a harder laugh, a louder dream and a better life.
Feel free to contact me directly for a consultation on personalized services, tailored to your needs.
Congratulations on your wedding and remember. Nothing is a stretch too far when it comes to making you happy.
Address: Archiepiskopou Kyprianou 15B, Strovolos, Nicosia, Cyprus
Tel: +357 96 670 130
Email: info@hadjiapostolouphotography.com