If the terms "Regal wedding" and "Luxury wedding in Europe" are part of your upcoming destination wedding vocabulary?. Then chances are a Belvedere Palace wedding in Vienna is on your radar, or at least should be. As a Belvedere Palace wedding photographer allow me to say you're in for the Vienna destination wedding of your wildest dreams. Belvedere Palace weddings can rival any royal wedding. Making your jaw drop and having your wedding guests marvel at the beauty around every step of their way into this luxurious Vienna wedding venue.
The Upper & the Lower Belvedere
How can they not! This historic Vienna venue, which actually consists of two Baroque palaces, the Upper & the Lower Belvedere, a magical orangery.
All set in the third district of the Austrian capital crowned by majestic gardens. Tiered decorated fountains, sculptures, and palatial wrought iron gates is the stuff of dreams.
Luxury weddings in Vienna could truly find no better match than the former summer residence for Prince Eugene of Savoy.
Imagine having your Vienna wedding reception set in the gardens of the Upper Belvedere. With your Belvedere palace wedding photography overlooking the graveled walks, the statues of nymphs and goddesses. The jeux d'eau by Dominique Girard, the apprentice of André Le Nôtre who constructed the Versailles. Or see your love story captured elegantly, in chic and sophisticated visuals by the best Vienna wedding photographers and your exclusive Belvedere Palace wedding photographer.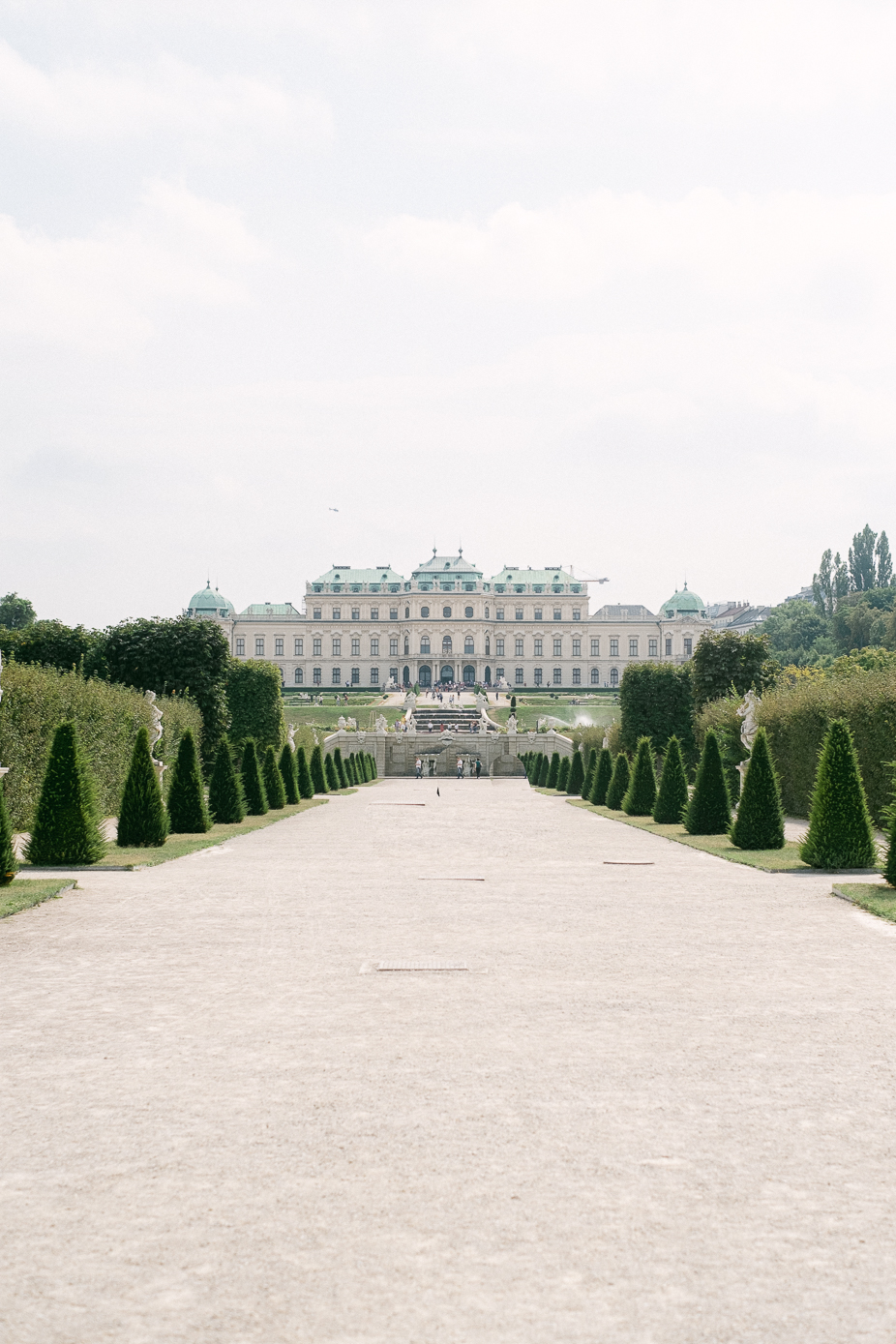 Most romantic dream in unique wedding images
With my Belvedere Palace wedding photography services by your side and my expertise in Vienna luxury weddings, I will help you experience the most romantic dream. In unique wedding images where every smile and tear, as well as your luxury wedding style. Will warm your hearts for years to come. In perfect tune and collaboration with some of the best Vienna wedding planners, your one-of-a-kind Vienna wedding designer, and your Vienna wedding florist my aim is to document your essence and make any kind of wedding style yours.
Elegant, classic, rhythmic, and utterly beautiful and fun. Thanks to my years of experience as a Belvedere palace wedding photographer whether you are planning on an intimate Vienna wedding, a Vienna luxury microwedding, or a Vienna Palace wedding worthy of Vogue headlines your memories deserve the most romantic and timeless destination wedding photographer.
Will be by your side
Whether you decide to hold your Vienna wedding reception at the Upper Belvedere soaked in glamorous baroque marbles. Incredible famous views, and the breathtaking splendor of the all-white Sala terrena, or celebrate your Vienna vows at the unique ambiance of the gold cabinet.
The marble gallery or the intimate chamber garden, a team of top Vienna wedding photographers will be by your side making sure no single moment goes missing. Your high-fashion wedding at an Austrian Palace, won't only be a style mashup of eclecticism and charm.  Also in the hands of the best-versed Belvedere Vienna wedding photographers so that you can have every moment at your fingertips.

Pro-tips on What to choose for a Belvedere Palace wedding ceremony and reception:
The Upper Belvedere is the most perfect location for a sophisticated wedding reception. Be it a religious or civil wedding in Vienna, while the noble palace chapel is available for a lavish private family-style wedding. In other words, if you are planning on a Vienna microwedding then the Oktogon is for you. For larger affairs and Vienna wedding parties, the sumptuous ceremonial rooms such as the Marble Hall which is actually the most luscious of the Upper Belvedere rooms features the unique and oh so praised Canaletto view.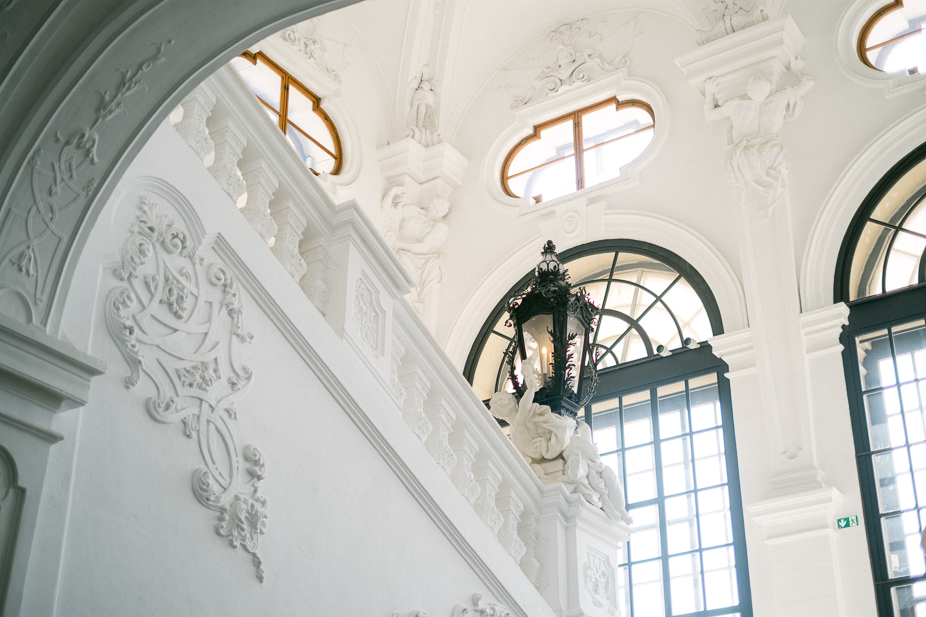 If you wish to have a romantic engagement in Vienna, then apart from the Belvedere Palace and Gardens the beautiful Schwarzenbergplatz and Karlskirche can be easily reached in a few minutes.
In conclusion, If you wish to tie the knot at the Belvedere Palace but would like to throw a luxurious Vienna pre-wedding dinner before the big day, then definitely consider the Hofburg Palace.
Get 
in 
contact 
if 
you 
want 
to 
celebrate 
your
engagement, 
elopement, 
wedding 
proposal 
or 
wedding 
day 
in 
Vienna!
In other words, I will be so happy to share more information about my Vienna wedding photography services. And to hear more from you about your Austria destination wedding wishes. A beautiful adventure together at Belvedere palace is yet to begin!
---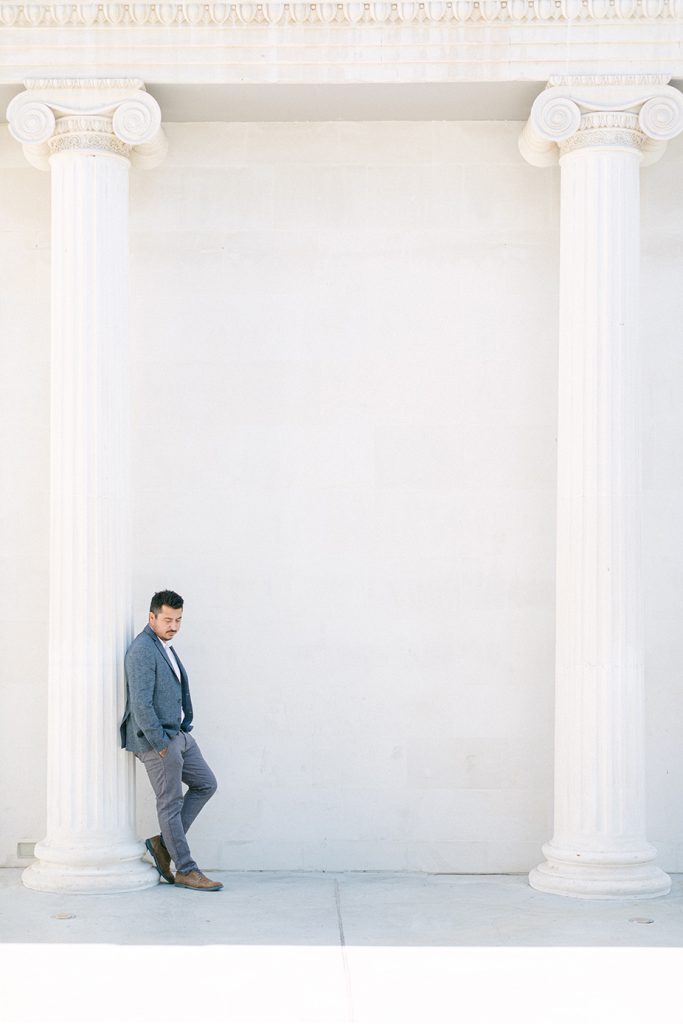 Meet me
My name is Panayiotis Hadjiapostolou, photographer and creative artist. As a patient gatherer of moments, I perfectly understand how special but fleeting they can be, and how precious your time is to you.

Your Big Day will go by in a flash.. and I will be there, in the background. Capturing all the delicious little things of movement and life; your perfect memories … all bottled up to inspire a harder laugh, a louder dream and a better life.
Feel free to contact me directly for a consultation on personalized services, tailored to your needs.
Congratulations on your wedding and remember. Nothing is a stretch too far when it comes to making you happy.
Address: Archiepiskopou Kyprianou 15B, Strovolos, Nicosia, Cyprus
Tel: +357 96 670 130
Email: info@hadjiapostolouphotography.com